SILVERHAWK'S CREATIONS.
IVORY WOLF CARVINGS:
© 1998-2006 Sam Silverhawk. All Rights Reserved.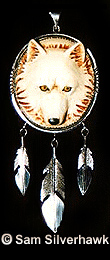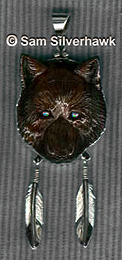 These pendants are 3-dimensional likenesses of a wolf's head carved from a solid piece of fosslized ivory. In the lefthand photo, antique yellow glass seed beads were ground and shaped for the inlaid insets of the wolf's eyes (which seem to follow you). The carving on the right features dark chocolate colored ivory and fiery opal eyes. Both Sterling silver mountings feature handwrought engraved feathers. These particular pieces were commissioned by other customers and are shown here only as an example of my work. But if you like, I could create something similar for you.
Price:  $400.00 and up, varying with your choice of size and material.


...or continue through the gallery by clicking below.