SILVERHAWK'S CREATIONS.
FLYING EAGLE NECKLACE:
©1998-2006 Sam Silverhawk. All rights reserved.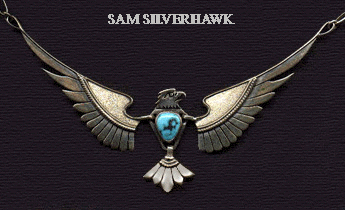 This is a wrap-around style necklace, in which the eagle's spread wings go partly up around the neck. The textured wings and tail are hinged from the body, giving the piece a flowing look. It features a heavy hand-wrought soldered link chain of Sterling silver connected to the wing tips, and a highly polished, vivid blue turquoise stone on the eagle's chest.
Picture slightly larger than actual size to show detail.
Price: $250.00
on a leather thong.

...or continue through the gallery by clicking below.