SILVERHAWK'S CREATIONS.
HEART-LINE BEAR FETISH: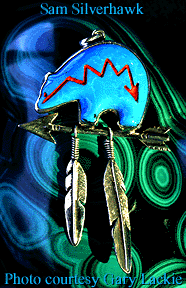 ©1997-2006 Sam Silverhawk. All Rights Reserved.
This heart-line bear fetish is carved in turquoise and buffed to a high, glossy polish. The high-domed turquoise carving is bezelled in fine silver, and complimented by a sterling silver arrow with two hand-engraved feathers hanging from it.
Price: $189.00
The example shown is slightly larger than actual size.
This beautiful photo is courtesy of Gary Lackie. THANKS BROTHER!

...or continue through the gallery by clicking below.