SILVERHAWK'S CREATIONS.
CARVED BEAR TOOTH: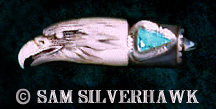 © 1997-2006 Sam Silverhawk. All Rights Reserved.
This is a genuine Black bear's tooth, deeply carved on one side, into the shape of an eagle's head. (The picture does not show the great attention to detail in this piece.) Although other carvings are available, this is the one most often requested, as the natural shape of the teeth lend themselves well to such a design. Capped with Sterling silver, this particular one has a turquoise stone.
Price: $199.00 plus shipping and handling.
Prices vary depending upon choice of stone and design.Please check for availabilty of teeth.
***Please note***
All sales of items made with game mammal parts (such as these bear teeth) are regulated by varying state laws.
When ordering, please be sure to include your resident state, so those regulations can be checked prior to sale.
Sorry, no international orders accepted.

...or continue through the gallery by clicking below.