SILVERHAWK'S CREATIONS.
CARVED TURQUOISE EAGLE'S HEAD PENDANT: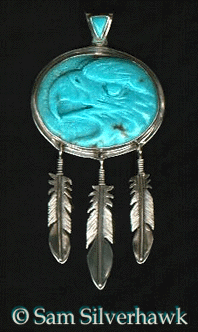 © 1997-2006 Sam Silverhawk. All Rights Reserved.
This eagle's head is deeply relief-carved into the turquoise, buffed to a high glossy polish, and is set in heavy sterling silver. Each of the three silver feathers is unique, and is hand engraved and textured.
Price: $400.00 plus shipping and handling.
Other carvings are also available on a custom-made basis.
Image shown slightly larger than actual size.

...or continue through the gallery by clicking below.