SILVERHAWK'S CREATIONS.
MOUNTAIN LION CLAW PENDANTS:
©1997-2006 Sam Silverhawk. All Rights Reserved.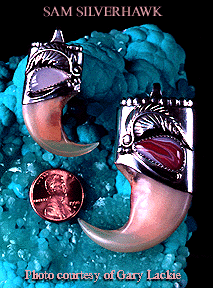 These genuine Mountain lion or cougar claws are polished to a high luster, and set in individually fitted Sterling silver caps. This picture shows the 'living line', with leaves and a flowing motif. The red-banded stone in the larger claw is a Laguna agate, and the other is set with moonstone. Images shown, for example only, are slightly larger than actual size.
---
This beautiful mountain lion claw photo is courtesy of Gary Lackie. THANKS BROTHER, you're the best!
 
***Please note***
All sales of items made with game mammal parts (such as these cougar claws) are regulated by varying state laws.

 

...or continue through the gallery by clicking below.