SILVERHAWK'S CREATIONS.
SILVER COIN BOTTLES: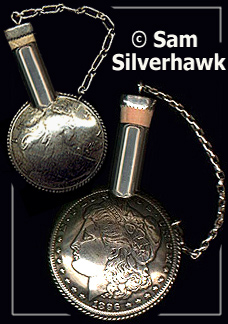 © 1997-2006 Sam Silverhawk. All Rights Reserved.
These coin bottles are made from any pair of United States silver dollars, half dollars or quarters. (Some other silver coins, including certain trade dollars, can also be used.) The minting and date are still clearly visible, although it does not show up well in this photo. Each one has a silver-wrapped cork attached by a silver chain, making it waterproof inside and out.
Shown is a 1941 Walking Liberty half-dollar bottle, and a 1896 Morgan silver dollar bottle.
Prices:
Silver Dollar Bottle: $199
Silver Half Dollar Bottle: $169
Silver Quarter Bottle: $149
Plus shipping and handling.

...or continue through the gallery by clicking below.