Marra Mamba
Gemstone information
Marra Mamba tigereye is yet another of Australia's bountiful treasures, and one of my personal favorite gemstones. This strongly chatoyant material is found only in the Hamersley Ranges, located in northwestern Australia. It occurs as isolated pockets in seams of blue crocidolite, and typically contains intricately beautiful patterns of shiny metallic hematite, like this fine example currently up for auction: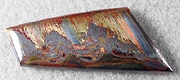 Click to enlarge!
The colors revealed in the photo are true and accurate, but do no real justice to the stone. After all, photos are flat, one dimensional views that haven't a hope of illustrating the three dimensional rolling flash that blazes forth from the stone in person. It also has a decidedly mysterious quality about it, and at the same time, it positively GLOWS! The pattern and colors work together wonderfully, making this unique cab easily as nice as any I've seen, anywhere, any time. Win it and you'll know exactly what I mean. -smile-
Marra Mamba tigereye is unique in all the world, difficult to come by in any quality, and quite expensive when you do find it. It gets its name from the area where it formed, millions of years ago, in the vast iron rich geological formation of the Pilbara region. The deposit has lately become of tremendous commercial importance, and currently there are extensive mining operations well underway, harvesting iron ore for industry. Sadly, I hear this very special tigereye was quickly mined out long ago, by those who discovered it, but perhaps they'll find more someday, and rockhounds will find a way to get it! Once you've seen genuine Marra Mamba tigereye, there's really nothing else to compare, and you can bet I'll be offering many more fine Marra Mamba cabs in the future.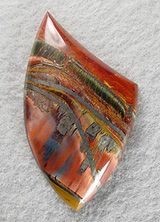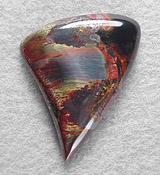 Click to see more information about these Marra Mamba cabochons!