SOLD GEMSTONES
For gemstones already sold from this page:
Click a page number to view.
page 1 page 2 page 3 page 4
For current sales please check here
These are sold but if you see something you like, please email me. I may have some of the same material and be able to cut something similar for you.
Please click on any item for a larger view and full description.

Item # 931o
SOLD!
Ocean jasper

Item # 1026rj
SOLD!
Red Jasper

Item # 1026as
SOLD!
Amethyst Sage


Item # 924sc
SOLD!
Stone Canyon jasper

Item # 1026ba
SOLD!
Botswana Agate


Item # 1026ls
SOLD!
Leopard Skin Jasper


Item # 1026rh
SOLD!
Rhodochrosite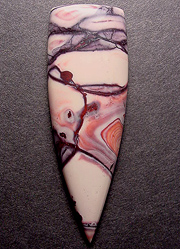 Item # 1026rh
SOLD!


For gemstones already sold from this page:
Click a page number to view.
page 1 page 2 page 3 page 4

For current sales please check here
---
See our shipping rates and sales tax info.



New and different gemstones will be added on a continuous basis, so please bookmark the main page url and come back often!
If you would like to receive a notice when new gemstones are added to this page, please sign up for our mailing list.
Join the mailing list
MORE UNIQUE ITEMS FROM
SAM SILVERHAWK
Contents © Copyright Sam Silverhawk 2001-2004. All Rights Reserved.
Please do not borrow!