~ Dinosaur bone cab ~

Offered here is a collector's cabochon of pyritized dinosaur bone, cut from a specimen found on the shores of the Isle of Wight, which is also known as 'Dinosaur Island'. The highly prized and extremely RARE material was sent to me by a nice fellow who personally finds fossils on the shores of his island residence. (Thanks Jeremy!) This extraordinary dinny bone is many millions of years old, a marvelous example of the natural preservation of our earth's ancient, extinct 'thunder lizards'. Virtually every last bit of the once living bone has been replaced with shiny metallic pyrite (and probably marcasite), and the subtle pattern of the darker cell walls is still quite apparent. WOW!!! You definitely won't find many like this; in fact, the handful of cabs I've cut over the years are the only ones I have EVER seen! This beauty has a nicely rounded dome of 5mm, a designer 'teardrop' shape, and a brilliantly shiny polish both front and back.

Size: 42x16mm
Weight: approximately 36 carats

Price: SOLD Click here for current gemstone offerings.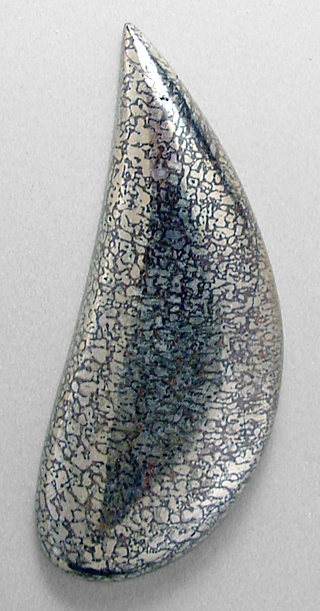 Pyritized dinosaur bone