~ Royal eye cabenite jasper cab ~

Offered here is a cabochon of royal eyes jasper, also called cabenite. It was found decades ago around McDermitt, on the Nevada/Oregon border, in thunderegg form. The sole miner was offering some small (& rather expensive) slabettes recently at the Madras gem show and we traded for a sweet pile of top picks. This example is quite attractive, with a long rippling pool of deep reddish-orange orbs that change to avocado and forest green hues as the go bubbling down the stone. Reminds me a little of Bruneau jasper, and has varied patterns and colors similar to those found in some Morrisonite and Willow Creek jaspers. I like how the jasper in this stone is so perfectly "married" to the surrounding matrix, which was sound enough to take an excellent polish, just like the gemmy core. It's a wonderfully unique cab for your jewelry designing and/or collecting pleasure that won't disappoint! The stone has a rounded dome of 5mm and an elongated designer 'teardrop' shape that's highly polished front and back.

Size: 65x18mm
Weight: approximately 46 carats

Price: SOLD Click here for current gemstone offerings.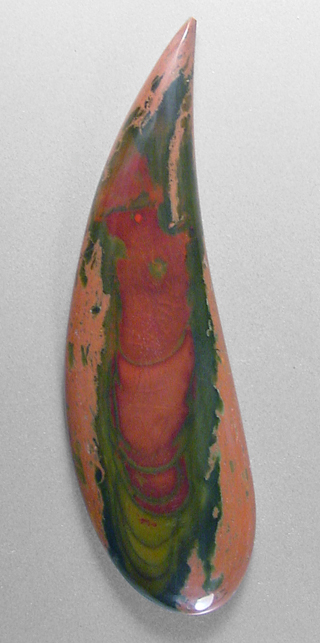 Royal eyes cabenite