~ Priday moss agate cab ~

Offered here is an attractive cabochon of Priday moss & tube agate, cut from a thunderegg found at the famous Richardson's Rock Ranch digs (formerly the Priday Ranch.) These terrific Oregon thundereggs are great fun to cut, because one never knows what surprises they hold within. I love the blue hues in this example, and the well-defined mossy peach filaments and tubes encased by darker shades. Please be sure to click the pics for a closer look, so you can enjoy the fine details in this stone, and its translucent nature. The cab has a rounded dome of 6mm, a designer 'flame' shape, and a glassy polish both front and back.

Size: 53x26mm
Weight: approximately 62 carats

Price: SOLD Click here for current gemstone offerings.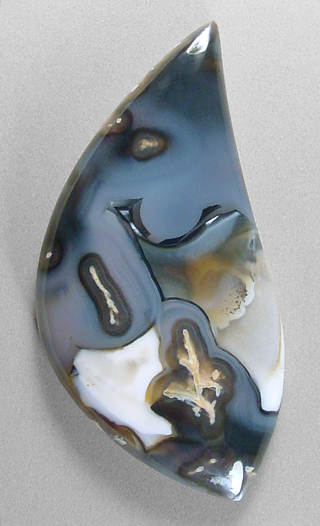 Priday moss agate