~ Nature's paint brush jasper cab ~

Offered here is a distinguished cabochon of nature's paintbrush jasper, which hails from China. This expressive material has only been around for about 10 years, in very limited supply, but it certainly has a lot going for it. I've cut many examples of this jasper, but they always seem to sell before I can get them onsite! Anyway, this one has an attractive combination of pastel lemon shades, providing a nicely contrasting backdrop for an absolutely AWESOME display of black spidery dendrites. I think you'll do great things with this one, using your capable imagination. The stone has a high rounded dome of 7mm, and a crisp designer shape, smoothly polished both front and back.

Size:50x26mm
Weight: approximately 59 carats

Price: SOLD Click here for current gemstone offerings.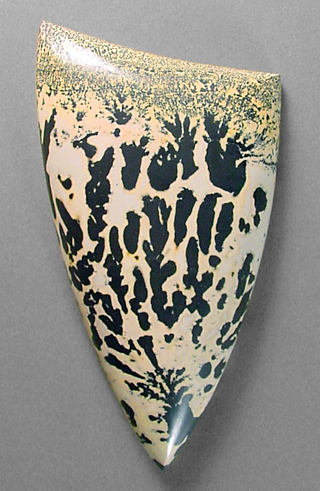 Nature's paint brush jasper