~ Ocean jasper cab ~

Offered here is an intriguing cabochon of ocean jasper, from Madagascar. I find this particular type of ocean jasper fascinatingly beautiful, with an impressive display of multi-ringed bullseyes and orbs in various sizes and colors. There's a truly festive celebration going on within this stone, entertaining the eye with fancy contrasting patterns in soft peachy-pink orbs with yellowish cores, as well as a larger flowery bullseye centered in orange ringed with green. I particularly like the fortification bands framing the sparkly green crystal-studded pockets; they add much to this stone's uniqueness and character. With such a striking palette of colors and patterns, it's a stone surely destined to become a treasured heirloom! This beauty is cut with a rounded dome of 5mm, a bold designer shape, and a super glassy polish both front and back.

Size: 47x19mm
Weight: approximately 26 carats

Price: SOLD Click here for current gemstone offerings.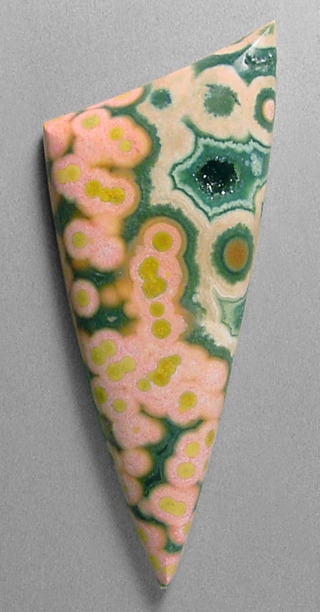 Ocean jasper