~ Dead Camel jasper cab ~

Offered here is a cabochon cut from a brand new material, Dead Camel jasper, mined and brought to market by Walt Harrison and Philip Stevenson. At first I thought they'd chosen a terrible moniker, until I realized it's quite appropriately named after the area of its source, Nevada's Dead Camel mountains.

Philip was kind enough to again send me a generous sample, from which two stones have been finished, so far; this is the first. I have to say I really enjoy this jasper, even more than I expected I would. It's nice and solid, and features a wild array of brecciated patterns in a suprising mix of colors. Somewhat reminiscent of top shelf Owyhee jasper, on steroids! Try some in your next creative endeavor; I've no doubt you'll love it! This stone has a well rounded dome of 7mm, and a bold designer 'spear' shape that's beautifully polished both front and back.

Size: 53x23mm
Weight: approximately 50 carats

Price: SOLD Click here for current gemstone offerings.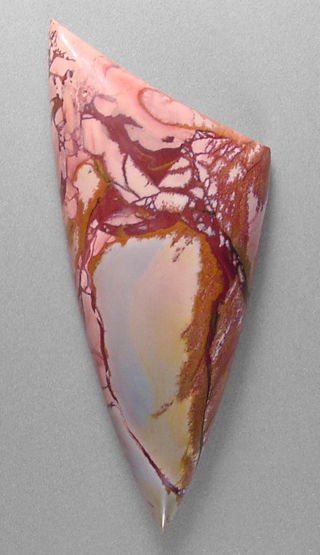 Dead Camel jasper