~ Millefiori cab ~

Offered here is an cabochon of millefiori glass. The Italian word millefiori means a thousand flowers, so named by the original makers of this fancy decorative glass. I believe the cane this cab was cut from was made in China, but whatever the origin of millefiori, it is extremely labor intensive to produce, with each flower segment made individually, by hand! Here's a link that will give you an idea: This example is composed of tiny flowers in stark monotones of white and black, with clear areas that add a neat dimension of depth you'll like. The cab has a high and well rounded dome of 8mm, a designer freeform shape, and a slick, glassy polish both front and back.

Size: 50x20mm
Weight: approximately 47 carats

Price: SOLD Click here for currentgemstone offerings.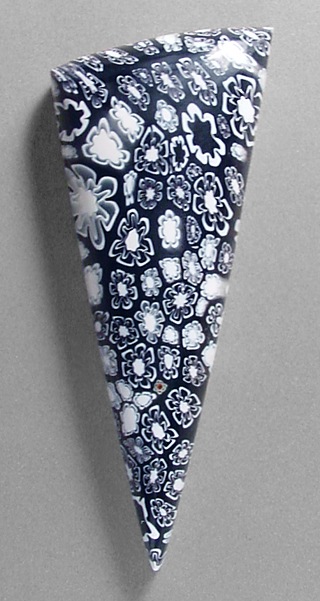 millefiori