~ Sonora Sunrise cab ~

Offered here is a cabochon of Sonora Sunrise, from Mexico. This fabulous new material is particularly striking, all natural, with a pattern that's a mixture of greenish blue chrysocolla and blood red cuprite. Some areas are edged in black, and there's a dab or two of yellow and orange too. Interestingly, there is a marked metallic sheen to some of the red and black parts, which you can catch only a hint of in the photos, mostly in the highlights. It's truly amazing stuff, just loaded with designer potential, as this brilliant stone just naturally captures everyone's attention. I think you'll do great things with it, in even the simplest of settings. The cab has a nicely rounded dome of 6mm, a bold designer 'chevron' shape, and a surprisingly glossy polish both front and back.

Size: 55x21mm
Weight: approximately 55 carats

Price: SOLD Current gemstones for sale Sold
See our current gemstones here.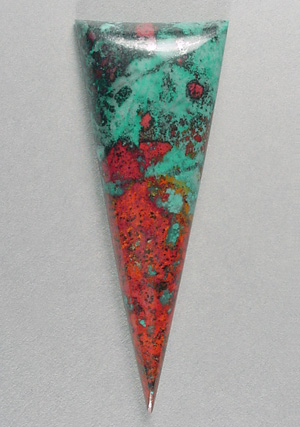 Sonora Sunrise