~ Oco geode cab ~

Offered here is a cabochon cut from a slice of an Oco geode. This scrumptious little agate stone is fascinating, with a show of wispy burnt reddish-orange plumes and bands against a translucent background. The drusy core is not open through to the back of the stone, but it certainly is studded with delightfully sparkling crystals. Fully terminated points, with plenty of gleam! It's a treasure! The cab has a nicely rounded dome of 5+mm, a luscious teardrop shape, and a super glassy polish both front and back.

Size: 36x20mm
Weight: approximately 29 carats

Price: SOLD Current gemstones for sale Sold
See our current gemstones here.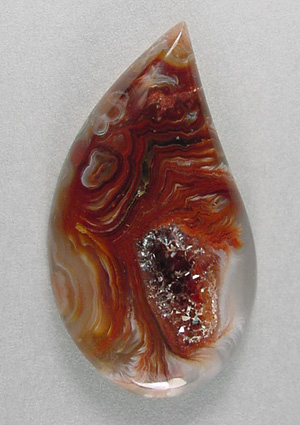 Oco geode