~ pink chalcedony cab ~

Offered here is a bold cabochon of pink chalcedony, new material that hails from Madagascar. Don't know why it's named as it is, because it's actually a new type of confetti agate, strongly reminiscent of the old classic Mexican material. In fact, I like it better, and think you will too! Like the older stuff, it's a real upbeat carnival of celebration, almost completely packed with 'islands' of confetti, in pastel pink, peach, and a fleck or two of yellow and white, within a purplish background agate. At the wide end is some white fortified agate, with a couple of neat drusy vugs, adding much to the stone's unique character. It's VERY translucent and gemmy, as illustrated by the backlit photo; please be sure to click it up to full size to enjoy the details. It's sure to be a knockout set in either gold or silver, no doubt, or a fabulous addition to your collection. The stone has a high rounded dome of nearly 7mm, a crisp designer shape, and a super glossy polish both front and back.

Size: 67x26mm
Weight: approximately 63 carats

Price: SOLD Current gemstones for sale Sold
See our current gemstones here.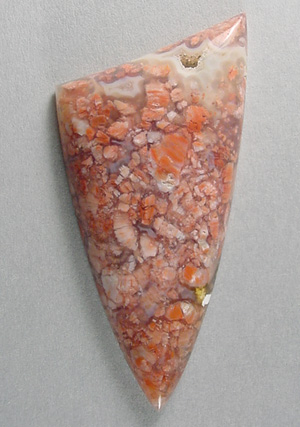 Pink chalcedony