~ Ochoco tube cab ~

Here is a designer cabochon of top notch Ochoco tube agate, from Oregon. This one was cut from an unusual stalactite-like piece of rough, clearly showing several tubes stuck together. Inside was this amazing bullseye pattern in a combination of palest bluish-white and clear agate. There's also a very atypical mossy dendrite, the only one I've ever seen in this type of agate. Truly a one of a kind, folks, this collectible cab will do you proud, whatever your plans for it. It has a well rounded dome, a sleek ovoid shape, and a super glassy polish both front and back.

Size:34x21mm
Weight: approximately 35 carats

Price: Sold Click here for current gemstone offerings.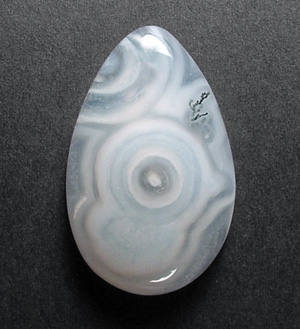 ochoco tube agate